On August 12, 2017 Dylan Fest AC returns to Dante Hall Theatre of Stockton U with Watson & Shocket, Just Like the Women, and the 5 Believers.
This year's show is dedicated to the late Herb "Bubba" Birch, who was the first sponsor of Dylan Fest AC back in 2015 and haD supported the event since its inception.
The 2017 Dylan Fest AC performer line-up is as follows:
Watson & Shocket (7pm)
Just Like the Women (7:35pm)
5 Believers (Following brief intermission, approx. 8:30pm) playing Bob dylan's 1983 album infidelS
The 5 Believers:
Jeff Schwachter on guitarS, vocals, harmonica, Whistle,

Barney Lihn on drums

Michael Morrow on electric / slide and pedal-steel guitar

Mark Devaul on Electric bass

John Bingham on organ, piano and keys
Gary Solomon of The THE BAND at the American Roots Music Festival (Sept. 7, 2015) Photo: Thunderbird Ranch Ramble
We are thrilled to be having special guest Gary Solomon of The THE BAND Band joining in for a special set this year!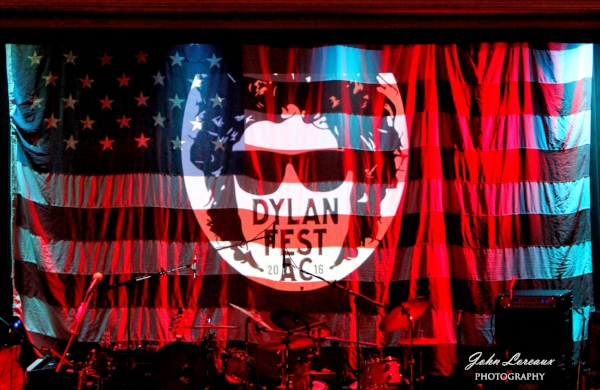 Saturday.
August 12th 2017!
Below, video from 5 Believers doing John Wesley Harding album in 2016. The same line-up (Barney Lihn, Robert Smith, Michael Morrow, Jeff Schwachter, and Mark DeVaul) returns to Dylan Fest AC 2017 to play the entire Infidels album.
Details for "Dylan Fest AC" 2017 - Saturday, AUGUST 12, in Atlantic City, NJ:
• LIVE musical tribute to Bob Dylan including an opening set by the duo WATSON & SHOCKET, followed by the South Jersey debut of the group JUST LIKE THE WOMEN, and the return of the region's best Bob Dylan tribute band —the 5 Believers — performing Dylan's 1983 album Infidels in its entirety.
• A Pre-Show Dylan Art & Wine Party will be held from 5-7PM at the Noyes Arts Garage with music, wine and light fare, and an exclusive Dylan-themed art show of new & original pieces by regional artists, including Michael Terenik, Victor Perez, Mike Bell, and Jeff Schwachter.
The Pre-Show event is Free and open to the public.
The cost of your Dylan Fest AC ticket gets you in Dante Hall for the live music show, starting at 7:15 p.m.) You can park for Dylan Fest AC at the Wave Parking Garage (with the Arts Garage located on the first level), check out the shops and studios there, and visit AC Arts Alley.
• Beverages & Grub - Formica Bros. Bakery & Cafe, Ducktown Tavern
• Ducktown Tavern will be serving beer & wine inside Dante Hall Theatre starting at 7 p.m.
• "Desolation Row" — Exhibit of NEW & original Bob Dylan - themed art work (by aforementioned South Jersey / Philadelphia area artists) plus Dylan books, posters, and items on display.
• Commemorative T-shirts
* Books (Dylan Goes Electric, New Jersey Folk Revival Music)
GET YOUR TICKETS. There are three options:
1. WEB: CLICK HERE / TICKETS WILL ALSO BE SOLD AT THE BOX OFFICE DAY OF EVENT ** Call 609-626-3890 FOR FURTHER DETAILS.
2. PHONE: by calling Dante Hall Theater at (609) 626-3890
3. EMAIL: CLICK HERE
4. BOX OFFICE: OPENS 2 HOURS BEFORE DOORS OPEN TO PURCHASE LIMITED AMOUNT OF REMAINING TICKETS.
Thanks to our major sponsors: Formica Bros. Bakery Cafe, WZXL 100.7 FM
ABOUT: A celebration of the music of Bob Dylan and his link to the Atlantic City area, specifically his poaching of Levon and the Hawks while they were a local bar band during the summer of 1965, going on to become his electric band after he "went electric" (as was celebrated at the inaugural Dylan fest AC)," recording a series of "Basement Tapes" with Dylan in late 1966 and through 1967 (as well as on sessions for the 1966 Bob Dylan album, Blonde on Blonde), and eventually becoming The Band and inspiring a rustic and authentic movement in music, which reverberates more than ever in the early 21 century — "the New dark Ages" continue.
The event, which also celebrates Bob's 75th birthday in 2016, happens in the old St. Michael's Church building on Mississippi Avenue in Atlantic City's Ducktown neighborhood, right across the street from the famous White House Subs, and a new parking garage, the Noyes Museum Arts Garage.
Last year's Dylan Fest AC was featured in newspapers and on Web sites from the New Jersey, Philadelphia and New York markets to Oslo, Norway. Same thing for 2017. (Press of Atlantic City column by David Spatz)
Read the 2017 press release.
Yesterday's Just a Memory ...
BELOW: THE SOLD-OUT 2015 DYLAN FEST AC
What is "Dylan Fest AC" all about? Celebrating the birthplace of Bob Dylan and The Band - and paying tribute to where it happened, in August 1965, following Dylan's historic electric performance at the Newport Folk Festival, in Somers Point, New Jersey, at the legendary Tony Mart nightspot, where Levon & the Hawks were playing a summer residency. (See full story below.)
Follow "Dylan Fest AC" on Facebook, Twitter and Instagram for latest updates and more. (Click orange links at bottom of page.)
THANKS TO Our 2015 Sponsors!
• Formica Bros. Bakery & Cafe
• The Atlantic City Bottle Company
• Bubba Mac Foundation
• Tony Boloney's
• WZXL 100.7 FM
• The Iron Room
• Mainstay Marketplace
• ArtC
• Paul Dempsey Photography
• AC Arts Commission / Boardwalk Art Show 2015
• Ventnor Coffee
• The Sandwich Bar (Ocean City)
• rarebyrds (logo design)
• HarperCollins Publishers / Dey St. Imprint - Publishers of July 2015 Release "Dylan Goes Electric" by Elijah Wald
• GrassRoots Music Store
• ComteQ Publishing
"DYLAN FEST AC" WILL ROCK Dante Hall THEATER Friday, August 28th, 2015
 
The year 2015 marks several milestone "50th anniversary" achievements in the career of the poet laureate of rock and roll and the pre-eminent singer/songwriter of modern times — Bob Dylan.. In 1965 Dylan "went electric" and discovered Levon and the Hawks (who became The Band) — right here at the South Jersey Shore.
Bob Dylan fans will have an opportunity to relive one of the most historic moments in rock history and celebrate the songs that chronicled social issues such as war and civil rights, plus Dylan's biggest rock classics, at "Dylan Fest AC" on August 28th at Dante Hall Theater of Stockton University in Atlantic City.
* The show begins at 7:30pm; doors will open at 6:30pm for wine tasting and to browse the attractions, vendors and art & memorabilia exhibits.
A live musical celebration and tribute to the ever-popular Bob Dylan and Levon & the Hawks, "Dylan Fest AC" will take place on the 50th anniversary of the birthplace of Bob Dylan and The Band — right at the Jersey Shore. Dylan's "discovery" of Levon Helm and The Hawks (later to become the Rock 'N' Roll Hall of Famers, The Band) in Somers Point, N.J., at the club Tony Mart in August 1965 has become the stuff of legend and has been called "…one of the most decisive moments in rock history," by Time magazine.
In August 1965, for his new electric back-up band, Dylan chose members of Levon & the Hawks (featuring the late Levon Helm, and which would later become The Band) who were performing a summer-long residency at a Somers Point, N.J., nightclub just 15 minutes outside of Atlantic City (Tony Mart). Coincidentally, Dylan's new band — including Levon Helm and Robbie Robertson of the Hawks — played its first show in Forest Hills, N.Y., on August 28th 1965, the same date as "Dylan Fest AC."
The show will mirror the Dylan/Hawks acoustic/electric shows of 50 years ago with the first set (acoustic) by Philadelphia singer-songwriter, music journalist and "Dylanologist" Peter Stone Brown and the second set (electric) by the Atlantic City-area based 5 Believers, the region's most genuine and beloved Dylan tribute band (featuring Jeff Schwachter, Waynard Scheller, Barney Lihn, Chuck Harms and Stephen Branca). Each set will consist of the songs Dylan (alone and with his backing band) would have played during his groundbreaking and controversial 1965-1966 shows around the world, plus a few other choice Dylan/Band classics and collaborations.
"Dylan Fest AC" seeks to commemorate this historic 50th anniversary of the birth of one of rock's greatest pairings — Bob Dylan and the Band (Levon Helm, Garth Hudson, Rick Danko, Richard Manuel, Robbie Robertson) — as well as honor the Tony Mart club.
Although Tony Mart— where "Eddie & the Cruisers" was filmed in part before it was torn down in the early 1980s — does not exist any longer, its spirit continues to thrive as the son of original owner Anthony Marotta — Carmen Marotta — continues to bring live music from around the country to Somers Point each summer with a free beach concert series.
"Dylan Fest" will honor the members of Levon & the Hawks, as well as the Marotta family and Bob Dylan (for his great taste in music). By doing so, we hope to bring attention to Somers Point, NJ, located just a few miles from Atlantic City, and Tony Mart's as being the birthplace of what would become one of the greatest artistic collaborations ever — Bob Dylan and The Band.
Also on tap:
• Official "Dylan Fest AC" After Party at The Iron Room with discounts and specials for "Dylan Fest AC" attendees.
• Copies of new just released book "Dylan Goes Electric!" by Elijah Wald (HarperCollins/Dey St.) available for attendees.
• Appearance by author and Dylan scholar Vince Farinaccio, who will have his book Nothing to Turn Off: The Films and Videos of Bob Dylan on sale and sign copies.
• "Desolation Row" — Exhibit of original Bob Dylan art work (artists include Mike Bell and Jeff Schwachter) and vintage Dylan items, memorablia and related materials on display.
TICKETS FOR DANTE HALL THEATER EVENTS CAN BE PURCHASED 3 WAYS:
1. ONLINE: Just click on this link to see all active events
and order your tickets online.
2. PHONE: by calling Dante Hall Theater at (609)-626-3890
3. EMAIL: CLICK HERE
YOUR SEAT IS WAITING...
HONORING THE BAND, BOB DYLAN AND SOMERS POINT, N.J.'S TONY MART CLUB ...
Bob Dylan kicked off his 2015 tour in Atlantic City (as he's done before in modern times, at the Borgata) and 50 years ago this very August he would embark on his first "electric" tour, with the help of a band he plucked out of one of the Jersey Shore's most jumpin' hot spots — Tony Mart's — just 15 minutes away. Furthermore, that band would soon after become The Band and alter the course of rock and roll themselves.
Long after Dylan decided to go call on the Band in Somers Point — thanks, in part, to some 1964 studio recordings he heard of the Hawks, produced by Duff Roman (whom the Band's Garth Hudson thanks in the liner notes to the 2014 Columbia Legacy release The Bootleg Series Vol. 11: Bob Dylan & The Band - The Basement Tapes, writing that the Roman tapes "helped them meet Bob Dylan" — The late Levon Helm, who has several ties to the Atlantic City region, loved to play and sing Bruce Springsteen's "Atlantic City." And Dylan — on the tune "Caribbean Wind" — sang: "Atlantic City, by the cold grey sea / I hear a voice calling 'Daddy" / I always think it's for me."
"Dylan Fest AC," while celebrating the birthplace of Bob Dylan and the Band and their masterful collaborations over the years, will also pay tribute to the tight musical and creative bond that was forged between Bob Dylan and the members of Levon & the Hawks (Rick Danko, Robbie Robertson, Garth Hudson, Richard Manuel and Helm — all of whom would continue to play and record off and on with Dylan through to the 1980s) at the Jersey Shore.
In response to Helm's death in 2012, Dylan said:
"He was my bosom buddy friend to the end, one of the last true great spirits of my or any other generation. This is just so sad to talk about. I still can remember the first day I met him and the last day I saw him. We go back pretty far and had been through some trials together. I'm going to miss him, as I'm sure a whole lot of others will too."
The idea behind "Dylan Fest AC" is to commemorate the origins of one of the greatest musical (artistic) collaborations in modern times, a musical journey embarked upon by a sextet of musicians with compelling and important ties to the Jersey Shore, specifically the small bay-side town of Somers Point, 15 minutes outside Atlantic City. "Dylan Fest AC" will honor the bond between the members of the Band and Bob Dylan, as well as the former Tony Mart club in Somers Point.
ABOUT JEFF SCHWACHTER
Jeff Schwachter is the producer of "Dylan Fest AC," a musical tribute to one of the world's greatest songwriters and performers — Bob Dylan — on the 50th anniversary of Dylan "going electric" and mystifying audiences with the first electric/acoustic folk-rock show of its kind in 1965.
Jeff has played with Blues Music Award winner "Jumpin'" Johnny Sansone, the late Gil Scott-Heron's bass player — and "Secretary of Entertainment" — Robert Gordon and leads his own band 5 Believers in the South Jersey / Philadelphia area. Jeff has also handed Bob Dylan a cassette tape of his band's music (at the TLA in the Philly, June 1995), stared him right in the eyes — but hasn't heard back from him yet.
Jeff's two CDs of original songs — 9 Songs and the "Riverbank Sessions" — are available on Bandcamp.com. 9 Songs (under his old stage name J.B. Schwakter) is also available on Amazon, iTunes, CDBaby and other online retailers. 9 Songs was produced by in-demand recording guru Pete Donnelly of South Jersey / Philadelphia, who also plays bass (and some drums and guitar and backing vocals) on the record. Pete is a member of The Figgs and has worked closely with Graham Parker, NRBQ, Soul Asylum, Death Vessel, Garth Hudson, Shelby Lynne and many more, including the great Fred Berman (Amos Lee).
The Story Behind Bob Dylan & the Band's Deep Roots to the South Jersey Shore
By Jeff Schwachter
In the 50 years since Bob Dylan "plugged in" for his notorious electric tour, it's become even more evident how that string of concerts affected the world of popular music.
As author Ron Bowman notes in the fantastic liner notes to the boxed set, The Band: A Musical History (Capitol), Dylan's 1965-66 tour with the Hawks (later re-christened the Band) set the standard for future rock performances.
"Dylan and his fans had come out of the world of folk music where audiences remained seated, respectful, and paid rapt attention to what was being delivered from the stage," writes Bowman. "Dylan performed with those expectations in mind ... [and with] the Hawks effectively signaled the transformation of rock and roll to rock, the shift from the performer as pop idol to the performer as artist."
After debuting his live electric sound to a crowd of folkies (some booing) at the 1965 Newport Folk Festival, and releasing the groundbreaking, six-minute single, "Like A Rolling Stone," Dylan decided to take his new sound on the road. He also turned to one of the summer of '65's most popular Jersey Shore bar bands to back him.
Levon and the Hawks were playing a summer-long engagement at Tony Mart's on Bay Avenue in Somers Point, an immensely popular nightspot -- especially among Philadelphia-area college students -- for its seven bars, go-go girls, and constant supply of hip bands.
The five-piece Hawks were a hard-playing, rugged group of virtuosos whose original sound was an intense combination of R&B, rockabilly, soul, country, folk and rock music. Even a few years before they would release their highly influential Music From Big Pink album (as the Band), the group stood out from their contemporaries, especially in the Toronto club scene and in the studio on early albums by John Hammond, Jr. (where Dylan really first met the guys in the Hawks?).
"It was incredible because so much of what was going on at Tony Mart's at that time was more like schtick and pop music," says Carmen Marotta, a Somers Point councilman whose father, Anthony Marotta, owned the club, which closed in 1982. "But this was a band that was incredible for their virtuosity and their intensity and their jamming."
Led by Arkansas native Levon Helm (drums, vocals) and Canadians Richard Manuel (piano, vocals), Rick Danko (bass, vocals) Robbie Robertson (guitar, vocals) and Garth Hudson (organ, saxophone), Levon and the Hawks played six nights a week at Tony Mart's. In return, they received a regular paycheck ($1,300 a week), plus room and board for the entire summer.
As Marotta remembers, although the band was still wearing suits and patent-leather shoes, they were so into their music that some nights they had to be pulled from the stage.
"One night, my father had to send guys to the stage three times to shake the group off because it was two o'clock and it was illegal to play music after [that time]," says Marotta.
Although he was only nine in 1965, Marotta remembers the Hawks' amazingly tight four- and five-piece vocal harmonies, which even back then, were one of their trademarks. People from all over, Marotta recalls, were coming to the Mart that summer to see "these white guys singing soul and blues and funk."
A front-page story published in the August 24, 1965 edition of The New York Times noted that Tony Mart's was "the wildest spot on the New Jersey shore and perhaps the entire eastern Seaboard."
A few weeks before the article came out, which included a photograph taken inside Tony Mart's showing the back view of a band playing, which could very well be the Hawks, Bob Dylan — as the official story goes — got word of this hot playing act. It's been rumored that Dylan sent down some folks from New York to catch the Hawks play at the Mart.
According to Marotta, some believe Dylan came down to check them out himself.
"My sister, Tina, swears that there was a skinny guy in a trench coat that came down, but it's never been authenticated," he says.
In his 1993 autobiography, This Wheel's on Fire, Helm remembers that Dylan phoned Tony Mart's in August 1965. After introducing himself to Helm he asked him: "Howja like to play the Hollywood Bowl?"
Marotta says Helm probably took the call in a phone booth located towards the rear of the Mart.
"That's where you would take those kinds of calls," says Marotta. "It was the only place you could hear."
Soon after the phone call, it was Robertson who went to New York to meet Dylan, agreeing shortly thereafter to play guitar with Dylan on a few scheduled dates. Helm eventually joined the band, too, playing a late August show (Aug. 28 to be precise) in Forest Hills, N.Y. and then the Hollywood Bowl.
Although the rest of the Hawks wouldn't join Dylan on the road until Septemeber (for a show in Austin, Texas on the 24th and Dallas on the 25th) and then from October 1965 through the following year, the Hawks ended their residency at Tony Mart's soon after Robbie and Levon went to play with Dylan at Forest Hills Tennis Stadium in Queens, New York (Aug. 28, 1965).
As Michael Corcoran wrote in the Austin American-Statesman in 2005, "The Austin appearance and the next night's concert in Dallas were the only two shows in the month between concerts at the Hollywood Bowl and Carnegie Hall. Many biographies gloss over these historic dates and there are no known bootlegs. At a San Francisco Press conference a few months later Dylan is still commenting about the reception from the Texas audiences."
Marotta remembers that Tony Mart's sent them off with a big party.
"They were beloved," says Marotta. "My father got them a cake on their last Sunday night. It was announced that they were leaving. Nobody cared about Dylan. The focus was that we were losing the Hawks."
Tony Mart's may have lost a great bar band, but Bob Dylan gained one of the greatest ensembles that ever backed him. He would continue to work with them intermittently until 1976 when the Band decided to call it quits.
In a recent interview, featured in the new Martin Scorsese picture No Direction Home: Bob Dylan, Dylan acknowledges the significance that the band he "discovered" in Somers Point had on his historic 1966 tour:
"The guys that were with me on that tour, which later became the Band, we were all in it together, putting our heads in the lion's mouth," says Dylan. "And I have to admire them for sticking it out with me. Just for doing it, in my book, they were, you know, gallant knights for even standing behind me."
Dylan's alluding to the constant booing he and the Hawks had to endure each night during that tour as most of the audiences wrongly expected to hear only acoustic Dylan. In fact, the adverse reactions from some of the audience members were enough to cause Helm to drop out of the tour altogether. Most tend to think the boos came from the audience because the equipment for such an electric music production was not there yet — Dylan ahead of his time once again — and the amplifiers, monitors, etc., were not up to speed until many years later.
Marotta says that years later Helm once told him that the band was very unhappy after first leaving the Mart to join Dylan.
"They were wildly popular and they were worshiped at Tony Mart's," he says. "Then they went and played that first gig and got booed and they were like, 'What the hell are we doing here?'"
Four decades later, it's obvious. They were changing rock music forever.
Further Listening
A few releases over the past 10 years showcase the highly influential and always magical creative output of the Band and Bob Dylan.
The Band: A Musical History
This five CD, one DVD box set comes with a 108-page book, and takes you from 1961 recordings of Ronnie Hawkins and the Hawks up to material from The Last Waltz. Among the 102 tracks are album cuts, outtakes, live recordings (some with Dylan) and dozens of rare recordings including two from the summer of 1965 recorded in Somers Point. Although the track list refers to "(I Want To Be) The Rainmaker" and "The Stones I Throw" as being recorded in a "Hotel Room in Somers Point," Marotta notes that this is an error. "There was no hotel room," says Marotta. "The Hawks stayed over top of Tony Mart's. These would have been recorded [there] -- or in the house next to my house, which they leased."
No Direction Home: Bob Dylan
This nearly four hour "picture," released last month and airing subsequently on PBS, documents Dylan's early journey from his childhood in Minnesota to his arrival on the early '60s Greenwich Village folk music scene to his turbulent 1966 world tour with the Hawks.
Insightful interviews with Dylan, Joan Baez, Al Kooper, and many other Dylan contemporaries give priceless glimpses into the artist and the period of time surrounding his early recordings. A related 2-CD soundtrack (the seventh volume of Columbia Records' long-running Bootleg Series) features 26 previously unreleased Dylan recordings including outtakes from the Highway 61 and Blonde on Blonde sessions. A Nov. 30, 1965 take of "Visions of Johanna" features the Hawks.
[Editor's Note: This story was originally published in 2005. It was updated June 16, 2010 with new information and then again in 2015 for the 50th anniversary. The award-winning story originally appeared in Atlantic City Weekly in Summer 2005, titled "Somers Point '65 - Something Was Happening Here and Bob Dylan Knew What it Was." ]
Segments from an Interview with Robbie Robertson
with JamBase.com's Robert Bolton
[Tell] me about that first meeting [Bob Dylan].

The first time that I met him, we were playing in this place in [Somers] Point, New Jersey, near Atlantic City. I got this message from someone that worked in his office who I knew asking if I would come up and meet with Bob. I was going to New York anyway to visit with some friends, so I said yes. I went and met with him and he told me about what he was interested in doing, beyond playing folk music. Then we went off somewhere with a couple of guitars, just him and I, and played together a little bit. It was great fun and I remember thinking, "Well, that was a good day." I wasn't sure where anything was going with it but he was certainly an interesting character. I honestly didn't know a lot about his music. At first, I didn't really understand what he was looking to do but he described it really well.
How did he describe it?


He just told me about folk music, Woody Guthrie and the train that he came in to New York City on and everything. He said he had done all of that and wanted to explore other ways of expressing music and this and that. I thought it sounded interesting, but that was about it. When we started to play together, that's when I discovered that there was a whole revolution going on with what he was trying to do. We didn't look at it as that big of a deal until it was that big of a deal.
I know you've been asked a trillion and one times about the experience of backing Dylan in the fall of '65 on that first electric tour. Because of my age – I'm 29 years old – it's beyond my comprehension how abrasive that experience of Dylan going electric would have been for his audience to hear. By that point in time, Elvis was electric, the Beatles were electric, everyone was moving in that direction. Is there any way you can help me understand what a monumental change the decision for him to go electric was and your experience seeing it firsthand?

Thing is, I didn't realize it was that monumental. None of us did. We all just thought, "So what?" I thought folk music was really nice and all but it was kind of boring, you know? I mean, that was my attitude towards it. I remember telling Bob more than once that I didn't blame him, that I'd do the same thing, too. As a musician, I'd want to make things more interesting for myself too. When I understood what the whole thing was and why people were upset because of all this, it seemed a little bit silly at the time but people were so dead serious about it. It became this thing like, "Uh oh, my God, now you have gone and done it. Now you have gone and mixed two things together that are just unacceptable." All of us in The Band didn't get it. We thought that's what this music has always been about – you mix the right things together to get something bigger, something better. When you combined those elements, that's when the sparks fly and you create fire. So, I thought it was an exciting thing and I think the rest of the guys in The Band did, too. But, it turned out to be so dramatic and there were people that thought it was too abrasive, it was too much. People were really upset and it was interesting to do something that seemed to upset nearly everyone. But with time, people were like, "Oh, no, no, no, that was actually really cool and the right thing to do." It became not only acceptable but overly acceptable.
Celebrated, even.
Yeah, exactly. Then, it turned into the revolution and the revolution was a good thing and it changed the course of music forever. I just couldn't believe that everybody was pretending like they liked it all along 'cause I was there and saw their reactions [laughs].
It's so interesting to me because it seems like no one is that emotionally attached to music today to be so offended. Because I was there, I can compare the two things and it was just a whole different view at that time. Music was kind of like the voice of a whole generation back then. Everybody was unified to some degree in this music, not only in this country but it was a global thing that was happening. It was just a different time. Music is not supposed to have that purpose nowadays. It serves a different purpose, I guess.
Read More here.
"Dylan Fest AC" is a JBS Productions event. Thanks to our sponsors!